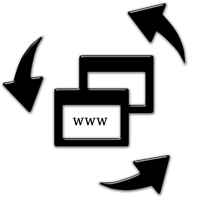 Getting your website noticed is one of the most challenging things involved in launching and maintaining an online presence. I often have clients contacting me to say they have received an email offering them the opportunity to get great exposure for their website by adding them to directories or lists for a small, one-time fee. It is very tempting to think that it's a good deal but they are running the risk of actually having a negative impact on their website.
Don't get me wrong, links are good, they always have been and (I expect) they always will be. What creates a problem is the type of links and how they are perceived by the various search engines. For the sake of discussion and practicality, we can just focus on Google as the search engine of choice for most internet users.
Let's step back for a moment and consider why you would want links to your website. It seems pretty obvious that the more links pointing to your website the more potential visitors you will have. This is what's called "referred traffic". Links will also help search engines find your website and improve how the search engine "sees" it.

So why can't you just add your link to hundreds or even thousands of websites to maximize your exposure?
Well, it comes down to the value of where you put your links. Paid directories and massive lists of links, referred to as "link farms", are most often a violation of Google's Guidelines and can negatively impact your site's ranking in search results. All paid advertising needs to be identified in such a way that it is clear to both the visitor and search engines.
So how do you get good links without risking your website's reputation?
Focus on quality not quantity. Make sure the link to your site is worthwhile to the visitor. Having something written about you or better yet, writing an article covering a topic related to your business that then links to more information on your website is one of the most effective ways to generate long-term traffic. Share these articles with other websites that are related to your business and, if it's appropriate, find a way to include a link back from your website to them. There are a few technical considerations, like what anchor text to use, where to link to on your site and the reputation of the site you're linking to/from, but overall thinking in terms of quality and value will be very helpful in making link successful decisions.
Link building, like any building, requires a solid foundation, careful planning and quality materials in order to withstand the tests of time.
1 Comment
iOS Tips and Tricks
Client Sites
Blog Categories