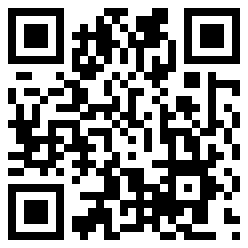 You've probably seen the funky squares with scribbles somewhere in your travels and may or may not know what they are. They've been around for awhile and are very popular in Japan but now they are making an appearance in North America.
A QR Code is a two-dimensional bar code created by Denso-Wave of Japan in 1994 to track inventory during manufacturing. The "QR" means "Quick Response" since the code was intended to be decoded at high speed.
The idea is that you print the QR code and people use a mobile device — iPhone, Android or other smartphone — app to scan it to cause something to happen. You can encode a URL that automatically launches the browser, create a 250 character text note, put a phone number that gets dialed, or create a SMS that is automatically sent from the phone. The possibilities are endless. I've seen some excellent uses on band posters in store windows, you just scan the QR code and get sent to their upcoming event web page. You could incorporate event tracking info for specific posters or locations…Hmmmm. I've also seen them on the backs of business cards to enter complete contact info.
Have you ever used them? Did you create them or scan them for something?
I've been playing around with location-aware QR Codes links and the potential is really quite impressive. Feel free to get in touch with me if you are interested in seeing what these codes could do for you.
One of many free online QR Code generators. Of course, there are more powerful tools with image sizing and tracking data…but you'll need to contact me to discuss them.
Super simple real-time reader on iTunes — no need to take a picture just line up the image and boom — for your iPhone or iPod (with camera).
Just for fun, if you get the app and scan the above QR code you will be sent to Goatminds.com on your phone. It's a collaborative blog I'm involved in.
Of course, this isn't the only technology out there like this, among others Microsoft is promoting their TAG marketing.
So given this incredible power….how have or would you use it?
1 Comment
iOS Tips and Tricks
Client Sites
Blog Categories