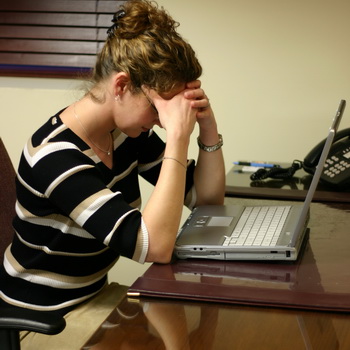 Lack of Engagement. Social Media isn't just a two-way street; at its roots, it's multidirectional. That means that the communication between your business and an individual extends far beyond that of an email, phone call, or in-person conversation. Your communication is being read, shared, and commented on by others that you may or may not know. People are even talking about your business without your involvement.
Solution: Remember that it's not all about you. When people are commenting or asking questions, make sure you take the time to thank or answer them. If there are businesses that you like, make a connection in social media. If there are clients that post interesting (and appropriate) things, go ahead and like them, follow them or repost/retweet (with your own comment). Also, it doesn't hurt to keep an eye out on social and review sites to see what people are saying about your business.
Lack of Content. If the only reason you are posting on Facebook or Twitter is to get more likes or followers, why are you posting at all? People don't want to read about how you want more people reading your posts or tweets.
Solution: Post about things that will be of interest to your existing and potential clients. They'll share with others and help spread the word. If people are interested in what you're writing, they'll come back, like and/or follow you.
Lack of Purpose. Hopefully, you've invested time and effort into creating a website that represents your business well. When it comes to business, Facebook, Twitter, and others are the new marketing channels. The purpose of marketing is — shocking as it may be — to sell products or services. Yes, brand-building, product exposure and client engagement are all very important, but ultimately they are intended to get people to buy something from you.
Solution: Make sure you're making the connection between your social media activity and your website where they can buy from you. Keep your site active by posting articles, updates, and announcements, then share them on social media. Have a way for people to connect with you on your website using a newsletter sign-up. An important thing to consider: What if Facebook or Twitter suddenly disappeared? What would happen to all those likes and followers that you've spent countless hours and effort on? How would you get in touch with them? It would be nice to have your newsletter email list as a fallback.
Posting to all sites at the same time. Each social site has its place. Many people will engage with you across multiple sites so you need to be aware that posting on all of them — at the same time, with the same message — ends up giving the appearance of automation, or worse, spamming. This may result in people disengaging.
Solution: Time your social activities based on how the sites are used. Even if it's a single announcement, make sure that you time and word it differently. For example, announce something on your website and Facebook a week in advance, then tweet a reminder on Twitter closer to the event.
iOS Tips and Tricks
Client Sites
Blog Categories