So I'm a programmer at heart. It's been a long time since I sat down and coded something from start to finish. In my early days I wrote large scale custom Client Management Systems with multiple database linking and huge data mining elements…and I loved it. Nowadays it's website development, small WordPress plugins and auditing sites for usability and performance which I also love. That said, I still have a desire to tinker with technology.
Years ago I saw the introduction of the Raspberry Pi and thought it was a great little rig for getting kids into technology. They could buy a base unit for cheap and just create stuff, share stuff and have fun with it. Of course, it was so much more than that and the Pi community created (and shared) some amazing, low-cost uses.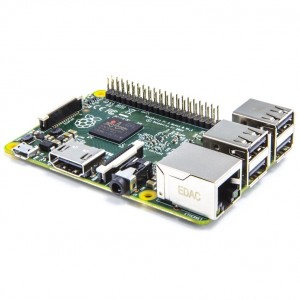 This year the Raspberry Pi had an update — a major update — making it a pretty powerful little device. The specs are all here, but what I will say is that has moved from novelty tech into a realm of media servers, NAS controllers and, well, a multitude of cool projects.
This upgrade finally convinced me to buy one. I had a specific use in mind — to replace my aging PC as a media server — and a local shop started selling them. I decided to go with a bundled XBMC media server kit containing a Raspberry Pi 2, case, XBMC preinstalled SD card, power adapter and HDMI cable.
As I waited for it to arrive, I began surfing the Pi project sites, reading review and performance data and generally making myself more impatient. When it arrived, I had these amazing ideas about what I wanted to do, all the code I could write and the neat projects my son and I could do but what happened was, I put it together, plugged it in and it just worked. My XBMC media server was up and running in a matter of minutes. Moved some files around and done. I turned off my old media server PC and there was silence. This little Raspberry Pi was quietly going along doing exactly what I wanted it to do.
I realised that I wouldn't get the chance to work on the amazing projects, mess around with command line coding and it was a little anti-climatic. Don't get me wrong, the Pi is awesome. It has replaced a power hungry tower PC that created far too much noise polution in my home office but, because of that, I can't really play on it. Sure, it's easy to have another SD card with a totally different operating system and I can code/recode to my heart's content but since it's the family media server it stays in that role.
I'm pretty sure I'm going to buy another one just to mess with and do things like create a retro gaming console. 😉
Stay tuned as I'm going to post more Raspberry Pi related articles, links and even some cool accessory reviews. If you've got one, please post in the comments what you are using it for.
And for my US friends interested in picking this up Amazon often has specials.
iOS Tips and Tricks
Client Sites
Blog Categories