Browsing articles in "iOS Tips and Tricks"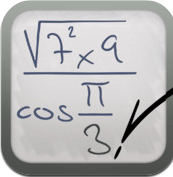 In the category of "Things that make you go 'Wow'" I stumbled across this seemingly simple, yet amazing, little app for Android and iOS. Draw your equation…yes, you just draw the equation and it converts it & calculates it. It reminded me of the Big Bang Theory episode where they decided to create an app.
Oh, and did I mention it's free?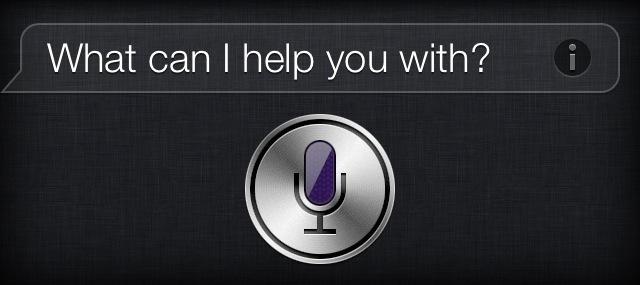 There are lots of list of things to ask Siri, silly questions and funny answers but what about really cool things you can ask Siri?
Apple is making Siri more useful every day. However, some of these assume you have setup some basic things about you like home address.
"Who am I?" if you've set up your info Siri will pull up your contact details otherwise you will be prompted to select yourself from contacts.
"How's the traffic?" results in a map based around your current location (assuming you have location services on) showing accidents and construction.
"Convert 100 Canadian dollars to US dollars" brings up the current estimated exchange. Of course, you can also do a variety of conversions and measurements.
"Show Tweets that mention me" and Siri will open the Twitter app and check your mentions.
"What's my schedule?" to show upcoming appointments.
"How busy am I today?" to see today's appointments.
"Take me home" for a map and directions home.
"What color is green?" and you get all the representations of green in RGB, hex, HSV, etc.
"Open Facebook" and Siri opens the Facebook app. Most of your apps can be opened this way which is fantastic! You can also say "Load"
"Get directions to XX via transit" the via transit will allow you to select which 3rd party app you'd like to use for your route information. You can use this to access Google Maps.
"Play some Rock" gets a shuffled playlist of your rock genre music.
One of my favorite and most used features is geo-fencing…"Remind me to take out the garbage when I get home". The "Take out the garbage" reminder will trigger when I get near my house.
"What can you do?" gets a list of thing you can say.
Did you know you can also speak symbols? Some of the symbols that Siri recognizes are: hashtag, percent sign, copyright sign, registered sign, section sign, dollar sign, cent sign, degree sign, caret, at sign, pound sterling sign, and pound sign.
I use Siri all the time to set reminders, schedule a meeting, update my calendar, log expenses…you get the idea and with iOS7 just days away, I can't wait to what Apple have added to the feature set.
Feel free to post your favorite questions to Siri in the comments below.
We're sorry, we cannot complete your request on the iTunes Store at this time.
Please try again later.
Is Apple Down?
If you can't access one of your Apple services, iTunes, stores, iCloud or accounts they may be having a service outage or disruption. How will you know?
Just check the official Apple System Status Site (http://www.apple.com/support/systemstatus/)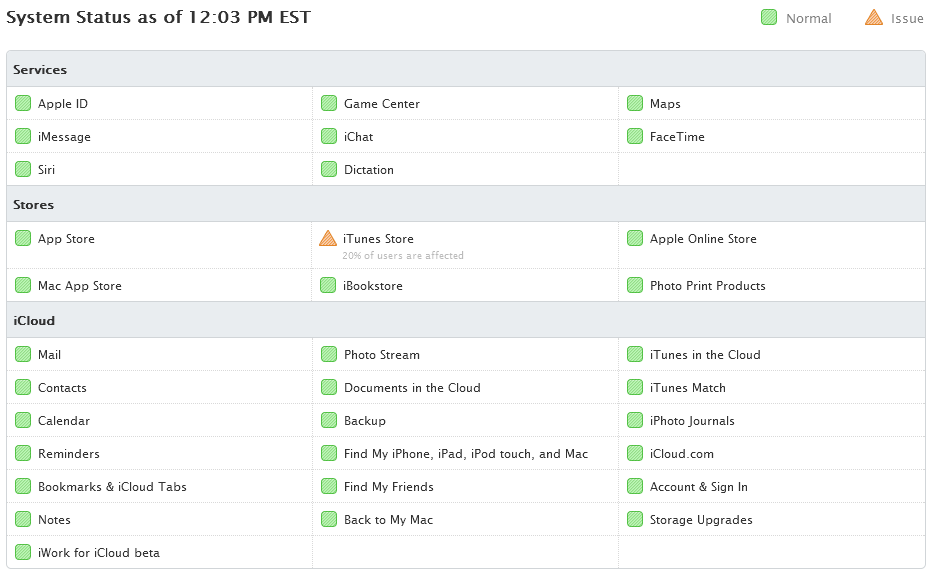 The reactions to Apple's new iOS7, slated for release this fall (September 18th), are pretty dramatic. Personally, I like the new design. The video ads, well, they are a little too pretentious for me but who doesn't expect that from Apple. It's still worth watching the video on the above linked page in order to see all the new and cool features they have put into this "major" upgrade.
The notification center added in iOS6 was a welcome integration and the redesign looks like it will be even more useful. Plus photos are finally getting some attention with what looks to be a much better gallery and camera app.
What interests me the most are the Siri enhancements. I use Siri a lot, and I love it so I am really looking forward to any new features that they add. I don't really care about male/female voices (although I know a few people who will be thrilled) or Twitter integration but Wikipedia might be interesting. However, it's about time Siri had access to changing system settings like Bluetooth, etc.
Love it or Hate it? Please comment.
No Jail-breaking and no additional app needed.
Do you constantly get calls from a telemarketing number that's driving you crazy? Wouldn't it be great to be able to block? Definitely, but since that's not a built in option on the iPhone a great workaround is to give the number a silent ringtone. All you have to do is create a contact from the number and set the ringtone to Silent. Once again, they missed the mark and a silent ringtone doesn't come with your phone, however, there are lots of simple silent ringtones available. Here's a small 8K file SilentRing.m4r
Here's how to add the Silent Ringtone to your phone:
Download a silent ringtone to your computer. SilentRing.m4r
Open iTunes. Under LIBRARY on the left-hand menu in iTunes click TONES.
Copy the silent ringtone into TONES.
Connect your iPhone to the computer and sync (make sure Sync Tones is checked). The silent ringtone should now appear in your list of ringtones and you can assign this ringtone to specific contacts
Here's how you assign the ringtone to the number you want to "Block":
Open Phone App.
Go to RECENTS on your call list and click on the arrow to the right of the number for more options.
Select Create New Contact.*
Fill in the name field, I usually put SCAM or TELEMARKETER so I know at a quick glance in the future.
Select on the ringtone currently shown as Default.
Choose the SilentRing ringtone from the list.
Press the SAVE button.
Depending on your default settings you may also need to set Vibration to NONE.
Press the DONE button in the upper right hand corner of the screen.
Now when that number calls again you'll see the call as SCAM (or whatever you entered) but it won't ring.

*Another option is to create a single SCAM contact and add the new number to it using "Add to Existing Contact". That way you only need to set the ringtone and vibration on a single contact. However, if you are syncing contacts with other services you may need to look into the limits on phone numbers per contact.
Admittedly, it's not really blocking a call but it does make them silent and that's all we really want isn't it? This is a fairly simple solution that doesn't require a 3rd party app and can be used on any contacts you want. Hope it helps and feel free to comment or share to show your appreciation.
Beatrice the Biologist and Tip-Tok present AMOEBOiD, a fun-filled game about life on a microscope slide. I had the privilege of doing some beta testing and it's a fun (and educational) game.
Check out (and buy) Amoeboid on iTunes
And for a little extra fun and learning, stop by the website for Beatrice the Biologist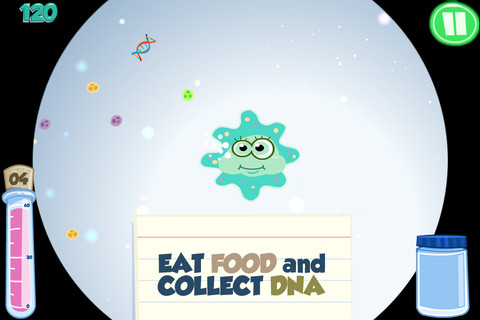 I love my iPhone 4S. I love Siri. I love Google Calendar.
However, using Google Calendar there doesn't seem to be a way of turning off the automatic invite email that gets sent when you tell Siri to "Schedule a meeting with [person's name] on Monday at 10am". If the the person is in your contacts with an email address they are added as an invitee and Google Calendar automatically emails them the invite. Of course, there are ways around this by changing what you tell Siri but that misses the point of the intuitive nature of Siri and impacts it's usefulness.
I've had a few emails go out to unexpected invitees for tentative meetings I was just planning before contacting the client. I really wish Google would made the automatic sending of invite emails a setting based feature.
If you know of a fix, add-on or workaround that includes leaving the name of the person in the meeting request to Siri, please comment here. Of course, if I find anything on the web I'll be sure to post it here too.
UPDATE: September 2012 – I've updated to iOS 6 and have been testing the unwanted automatic email invitations and it looks like Siri is doing something a little different. I'll keep playing around with it but at the moment it seems to still be adding the event to the invitees calendar.
UPDATE: For a little clarification in why I point to Google Calendar as the source of the problem, when I create an appointment WITH someone and it sends out the automatic invitation to the meeting it comes from the email address associated with my Google Calendar not the email address used on my iPhone. Looking at the message source code you can also see that it is coming from Google Calendar calendar-notification@google.com
UPDATE: April 2013. FINALLY…Thanks to Peter here is a usable workaround. You can say "schedule quote lunch with Joe end quote at noon" so that no email is sent and they are not added as attendees.
Are you using Google Sync but can't get more than one Google calendar to appear on your iPhone?
On your iPhone open safari browser and go to m.google.com/sync and login with your Google account. Select all the calendars that you want to sync. The default is to only sync the one calendar but from here you can select up to 25 calendars to sync.
On my main settings screen under Airplane mode and Wi-Fi, Personal Hotspot wasn't showing so I just assumed my carrier (Virgin Mobile Canada) was blocking it. Turns out the reason it wasn't showing was it wasn't turned ON under Settings->General->Network->Personal Hotspot (iOS5). Once I turned it on, it showed up on the main settings screen.
For iOS6, you should find Personal Hotspot ON/OFF under Settings > Cellular > Personal Hotspot (listed below Cellular Data and Data Roaming).
It's available via USB, Wi-Fi and Bluetooth.
Sorry I doubted you, Virgin Mobile. 😉
iOS Tips and Tricks
Client Sites
Blog Categories