Home
»
Archive by category 'Blog'
(Page 4)
Browsing articles in "Blog"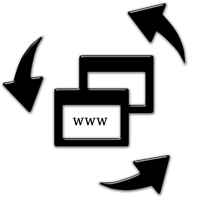 Getting your website noticed is one of the most challenging things involved in launching and maintaining an online presence. I often have clients contacting me to say they have received an email offering them the opportunity to get great exposure for their website by adding them to directories or lists for a small, one-time fee. It is very tempting to think that it's a good deal but they are running the risk of actually having a negative impact on their website.
Don't get me wrong, links are good, they always have been and (I expect) they always will be. What creates a problem is the type of links and how they are perceived by the various search engines. For the sake of discussion and practicality, we can just focus on Google as the search engine of choice for most internet users.
Let's step back for a moment and consider why you would want links to your website. It seems pretty obvious that the more links pointing to your website the more potential visitors you will have. This is what's called "referred traffic". Links will also help search engines find your website and improve how the search engine "sees" it.
Read more >>

Test how fast your web page is loading by visiting Loads.in This can be a good first step in determining if your site is performing well. Of course, there are many other tools and techniques for determining when and where your slowdowns are occurring…or you can just give me a shout to have a look.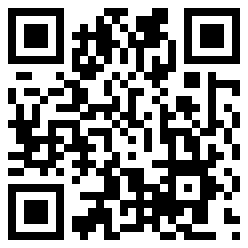 You've probably seen the funky squares with scribbles somewhere in your travels and may or may not know what they are. They've been around for awhile and are very popular in Japan but now they are making an appearance in North America. Read more >>
Update September 2011: Looks like blueprint is offline so I contacted Ryan and he was gracious enough to provide his source files. See his original article and code now on my site.
Ryan over at intereactive.net posted an excellent fix way back in late 2009 for the 1 Pixel Out Audio Player (ETA: now on my blog since intereactive is gone). The player is widely used as a standalone item and as a WordPress plugin. The problem is that being Flash-based it isn't supported on iDevices — iPhone, iPad, iPod — so Ryan came up with the fix. His solution detects if an iDevice is accessing the page then replaces the Flash player with an icon linking to the audio file.
Read more >>
There is an important distinction between Google.com and Google.ca when trying to plan your online search engine efforts. Of course, ideally it would be great to get high placement for your site and keywords on Google.com but realistically why would you put a lot of money and effort into it?
As it turns out, Google.ca was used for around 65% of Canadian searches followed by Google.com at 13%. This is partly due to Canadian visitors to Google.com automatically being sent to Google.ca for their search and also due to people trying to get more relevant local results. Google Places, among other tools, have been moving us to more local search results and when you add in review sites like Yelp.ca it is getting a lot easier for people to find things where they can use them.
So if you are a local business, what does this mean to you and your marketing efforts? Well, it means you should make sure that you are set up properly on Google Places, that your web site clearly indicates where you are located and that you should be putting some of your seo resources into localized online advertising and local link building. Also, if you have a loyal client base, you should ask them to rate you on local review sites.
Tasked with updating Susan V. Phillips' tired, dated and difficult to manage site, I wanted to make sure that it not only represented her better but also worked into her busy schedule. For the colour scheme, I selected warm tones and incorporated elements from her existing logo. Since her work has such a visual impact, I focused on showcasing some of Susan's design on the main page of SpotlightOnDecor.com.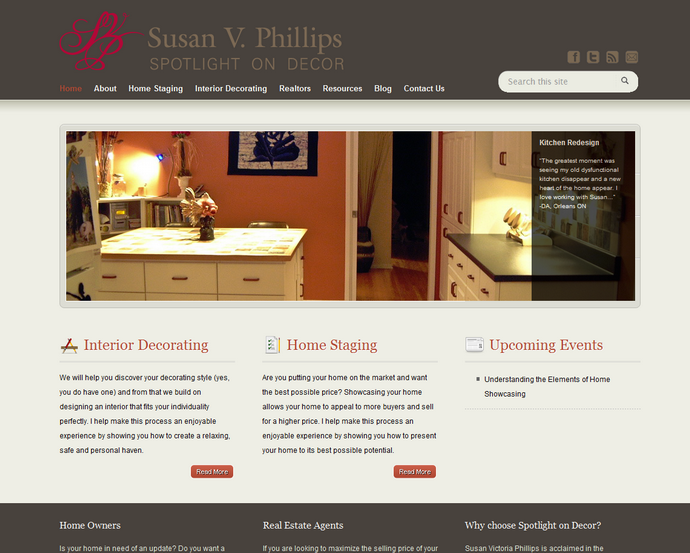 Old Site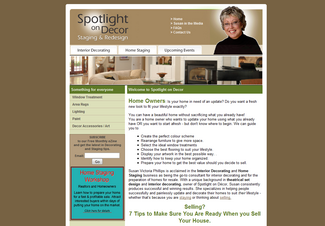 Whether Susan is staging a home for sale, redesigning your living space or appearing on local Ottawa radio, television and at home shows, it is truly a learning experience. If you are looking to sell your home for top dollar or wanting to update your current home, you owe it to yourself to get in contact with Susan.
Working with Susan has been a real pleasure and I'm thrilled to be continuing our relationship by providing my business coaching, SEO, website management, marketing expertise and professional photography.
A Message from Susan
Guthrie Woods Products new website went live in August 2010 and I'm just getting around to bragging about it now. After a successful overhaul of their old site through various SEO techniques and some recoding, the need arose to change the purpose of the site from a static marketing tool to an active sales system.
The foundation of the new site is a robust e-commerce system but we've made sure that the beauty of their products is front and center. This is one of those companies that have been around for years providing the best quality swords and ceremonial products to the military and the likes of the Governor General and the Queen. They decided it was time to revamp their website, move to an e-commerce system and enhance their online presence through SEO and online marketing efforts. On-going reporting has shown steady and strong growth the the numbers and quality of their visitors as well as an increase in brand recognition.
If you are looking for top quality military swords, vehicle replicas, medals and even military music you should check out their site.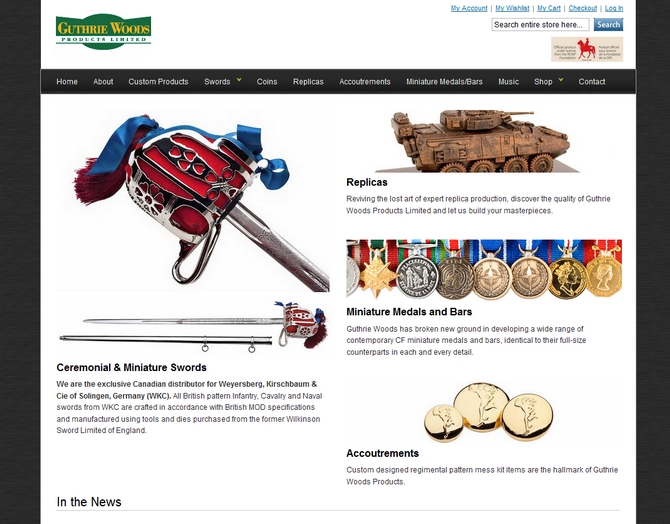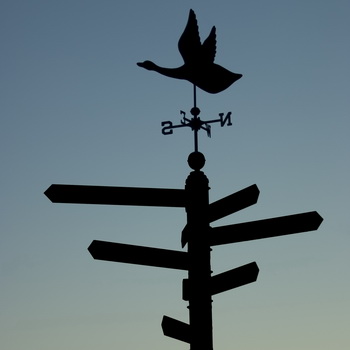 So you've got a website running and it's getting some decent traffic but you keep hearing about how social media is the "next big thing". Sure it's been around for a while, but now everybody's doing it. Let's look at social media as it pertains to online social media networks like Facebook, Twitter, other people's blogs and forums.
One of the things to consider is that, unlike your own website, social media is essentially out of your control. You can tell people about stuff, offer guidance and even have some success in promoting your product or service but it's everyone else that is in control. What they say about you, how they share your information and whether they decide to connect with you are major factors in your social media efforts.
First things first. Why are you online? If you are hoping to generate revenue from advertising and affiliate links and you just want big traffic numbers then most of what I'm about to say isn't likely of interest. If, however, you are promoting your own product or service then the quality of those visitors and the customer service that you provide will be an important consideration.
Read more >>
…then it likely is. If you ever received emails promising riches and freebies you've likely thought "this is a hoax". Most often you'd be right except there's always one that makes you wonder. Well for years Snopes.com has been debunking email and internet hoaxes and scams. Next time you receive a once in a lifetime offer from a friend who is forwarding the message to you because they heard it was on Good Morning America or CNN, take a moment and check it out at Snopes.
iOS Tips and Tricks
Client Sites
Blog Categories